Kit Face Steamer + Blackhead Remover Vacuum
& Free ShippingSave $61,90
YOUR OWN BEAUTY SALON IN THE COMFORT OF YOUR HOME!
Enjoy professional facial SPA at home with our BEST SELLING KIT.
HYDRA-GLOW FACE STEAMER:
Softens surfaces skin to help remove dead skin, dirt, oil and makeup remnant.
Allows sweating to help remove toxins. Naturally deep cleansing to purify the skin, boots blood circulation and prevents signs of aging.
BLACKHEAD REMOVER VACUUM:
Sucks out blackheads clogged in pores.
Gets rid of oils, white heads, blackheads, and dead skin.
Increase black circulation for a brighter skin.
Give yourself a glowing, hydrated skin in minutes for just a fraction of the salon price!
In stock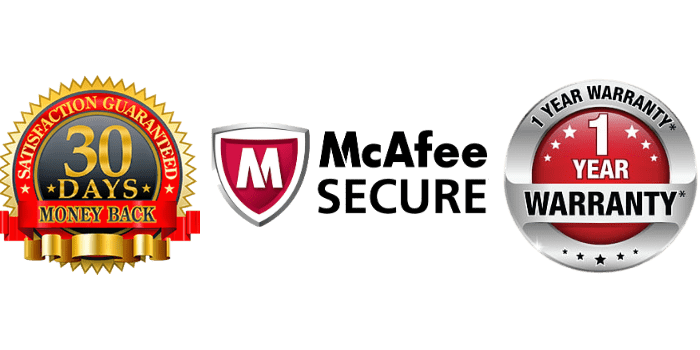 YOUR SKIN HAS MORE IMPACT ON YOUR PERSONAL RELATIONSHIPS THAN ANY OTHER PART OF YOUR BODY
Having your face covered with dirt, blackheads, oil, acne and dead skin cells not only damage your skin, but it also erodes your self-esteem, and cause additional stress in your life.
ARE SALONS, FACIALS AND SPA TREATMENTS THE SOLUTION?
You can't get rid of those blackheads with simple cleansing foams. It's also useless to break your bank on facials, salons, and painful peeling treatments that inflame and reddish your skin. Treat yourself to the deepest cleansing possible in the comfort and privacy of your own home.
GET THE CLEAR & GLOWING SKIN THAT YOU DESERVE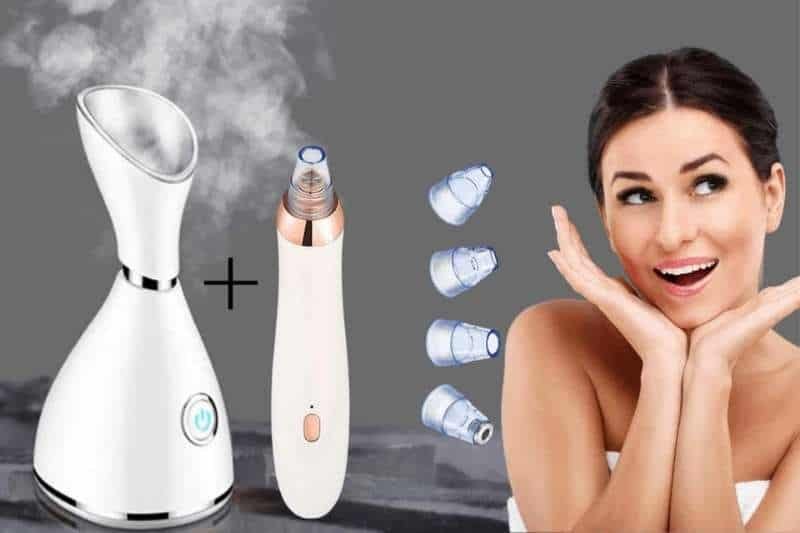 STEP 1: STEAM YOUR FACE
Most skin problems are caused by dehydration. Fine lines & wrinkles, large pores, and sensitivities are all caused by a long period of dehydration. Most skincare products won't work or show you results because your pores are clogged. Our face steamer ionizes the water molecules, which helps hydrate the skin faster.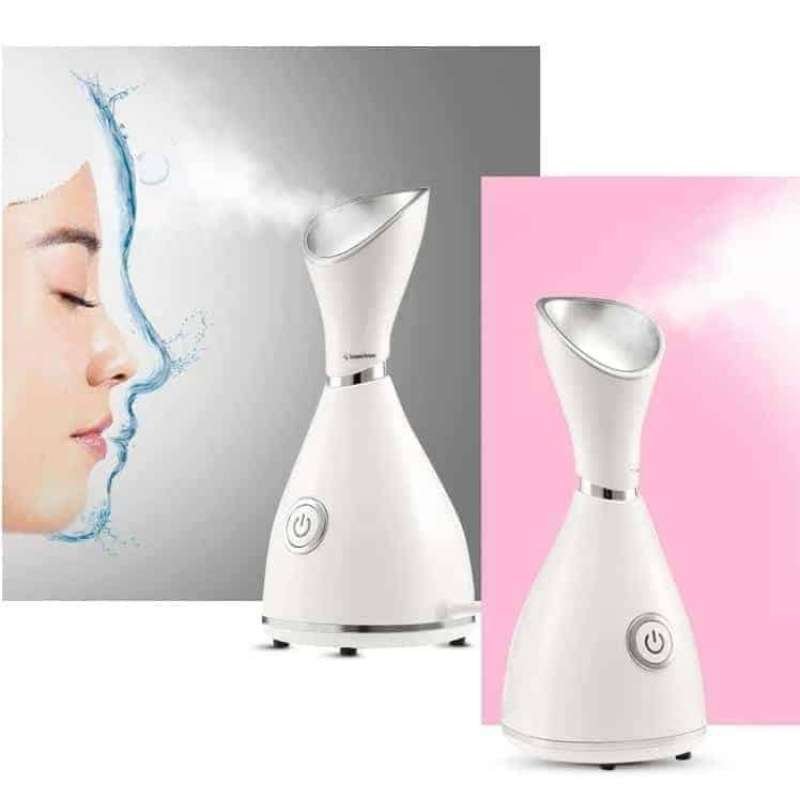 Hydra-Glow Face Steamer will help you fix that with immediately noticeable results. A naturally glowing and radiant face is no longer hard to maintain with expensive facials by estheticians. The portable facial steamer is ideal for people who are looking for an easy-to-use way to maintain a healthy face.
Detoxes Skin: Mini Face Steamer Removes dirt, toxins, dead skin cells, and excess oils which causes breakouts and acne.
Clears Pores: Face Steamer Opens and unclogs pores while enhancing the absorption of skincare products.
Full-Powered Steam: Facial Humidifier turns clean water into micro-fine particles to produce a powerful, consistent mist within minutes.
Nano Ionic Technology: At home Face Steamer is more effective at penetrating and hydrating skin.
Immediate Results: Portable Facial Steamer gives you clear and glowing skin after the first use.
STEP 2: DEEP CLEANSING
GET RID OF PIMPLES IN 5 MIN
Blackheads are our greatest enemy. They look dirty and oily and are also very painful to remove.
Pore cleaner with super powerful  vacuum suction can directly achieve deep cleaning and effectively remove blackheads, whiteheads, dead skin, grease and solve your skin problems once and for all . It also can be used to massage skin, increase blood circulation and skin elasticity, lessen wrinkle, shrink pores, and smooth fine lines. Your skin will look exfoliated and rejuvenated after several uses.

5 PROBES: Our Pore Vacuum Blackhead Remover provide 5 probes for customers, Big Round Probe cleans dirt on cheeks & forehead; Small Round Probe removes blackhead around nose; Oval Probe lifts the whole face; Deep Cleaning Probe exfoliates dead skin cells.
Rechargeable: This blackhead vacuum remover has a rechargeable USB lithium battery. You can charge your pore cleaner anytime, anywhere with a USB cable without having to worry about changing the battery. Small and portable, you can put it in your pocket and take your family on a safe trip.
HOW DOES THE TREATMENT WORK?
This blackhead remover is supplied with 5 different suction heads. The adjustable suction strength makes it suitable for different skin areas. You can set the desired level The nasal extractor with blackhead remover uses intelligent vacuum suction technology, which is a physical cleaning method that is not only safe, but also effectively removes blackheads / whitehead / comedones with strong suction, helps reduce wrinkles and firms the skin which make it professional and most efficient pore vacuum cleaner.
WHAT ARE THE BENIFITS?
Sucks out blackheads clogged in pores.
Gets rid of oils, white heads, blackheads, and dead skin.
Increase blood circulation for a brighter skin.
Improve dry sagging skin and wrinkles for a young looking face.
VISIBLE RESULTS
Noticeable results are seen after first use. Within 1 to 2 weeks blackheads will begin to vanish due to an overall cleaner and healthier skin, and you'll already get compliments on your skin.
OUR GUARANTEE
Obviously the results may vary but we want you to be 100% satisfied.
That's why a risk-free 30-day money-back guarantee If you are not satisfied, please return it for a full refund.
+ 1 year warranty
Customer satisfaction is always on top of our priorities.
Features: | blackhead remover | pore vacuum | blackhead remover vacuum | pore cleaner | pore sucker | face vacuum | blackhead suction | dermasuction machine | face vacuum cleaner | electric blackhead remover | skin care | facial steamer | facial treatment | steamer machine | steam machine for face | face humidifier | facial sauna | facial at home | face care routine | steam face at home | face skin care | steam for skin |