Kit Face Steamer & Ultrasonic Facial Scrubber
& Free ShippingSave $43,00
BRING SPA RESULTS TO YOUR HOME!
THE #1 HOTTEST TREND FOR CLEAR & RADIANT SKIN! If you want a safe, simple, and effective beauty trick, then you will fall in love with our innovative Hydra-Glow Facial Steamer! It sprays a warm Nano Ionic Mist on your face and neck to provide you with a squeaky clean and radiant complexion! DERMATOLOGIST RECOMMENDED – 1 YEAR WARRANTY + The ultrasonic facial scrubber  that corrects skin imperfections, allows you to gently exfoliate dead cells, removing Blackheads & Impurities, Anti-aging and Skin Tightening.
Give yourself a glowing, hydrated skin in minutes for just a fraction of the salon price!
In stock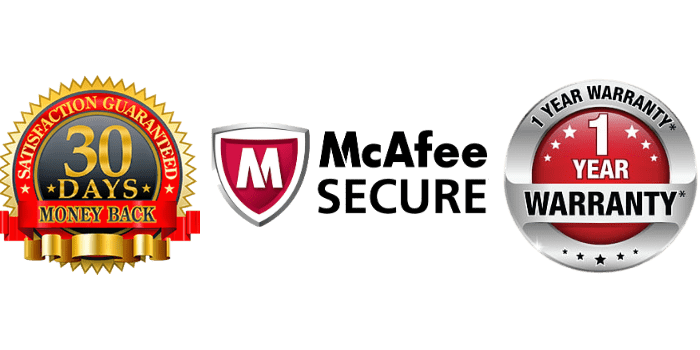 EXPLORE OUR BESTSELLING KIT HYDRA-GLOW FACIAL STEAMER & THE ULTRASONIC FACIAL SCRUBBER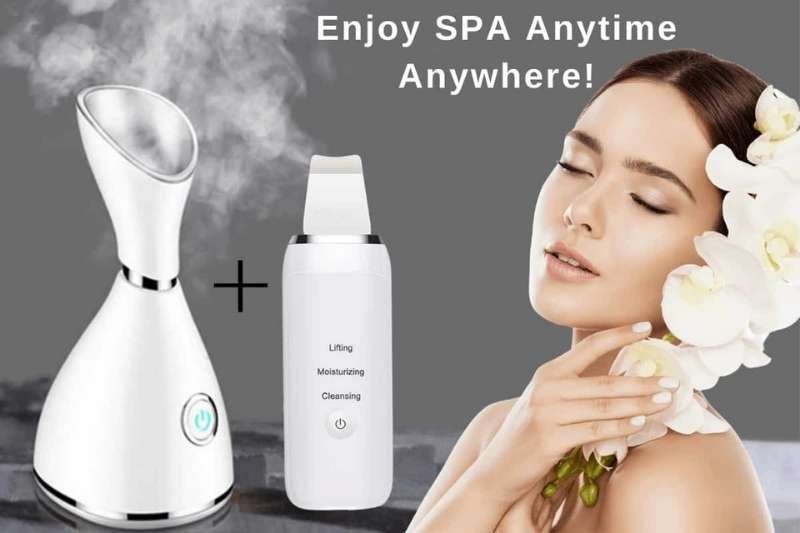 STEP 1: STEAM YOUR FACE
Most skin problems are caused by dehydration. Fine lines & wrinkles, large pores, and sensitivities are all caused by a long period of dehydration. Most skincare products won't work or show you results because your pores are clogged. Our facial steamer ionizes the water molecules, which helps hydrate the skin faster.
Hydra-Glow Face Steamer will help you fix that with immediately noticeable results. A naturally glowing and radiant face is no longer hard to maintain with expensive facials by estheticians. The portable facial steamer is ideal for people who are looking for an easy-to-use way to maintain a healthy face.
Detoxes Skin: Mini Facial Steamer Removes dirt, toxins, dead skin cells, and excess oils which causes breakouts and acne.
Clears Pores: Facial Steamer Opens and unclogs pores while enhancing the absorption of skincare products.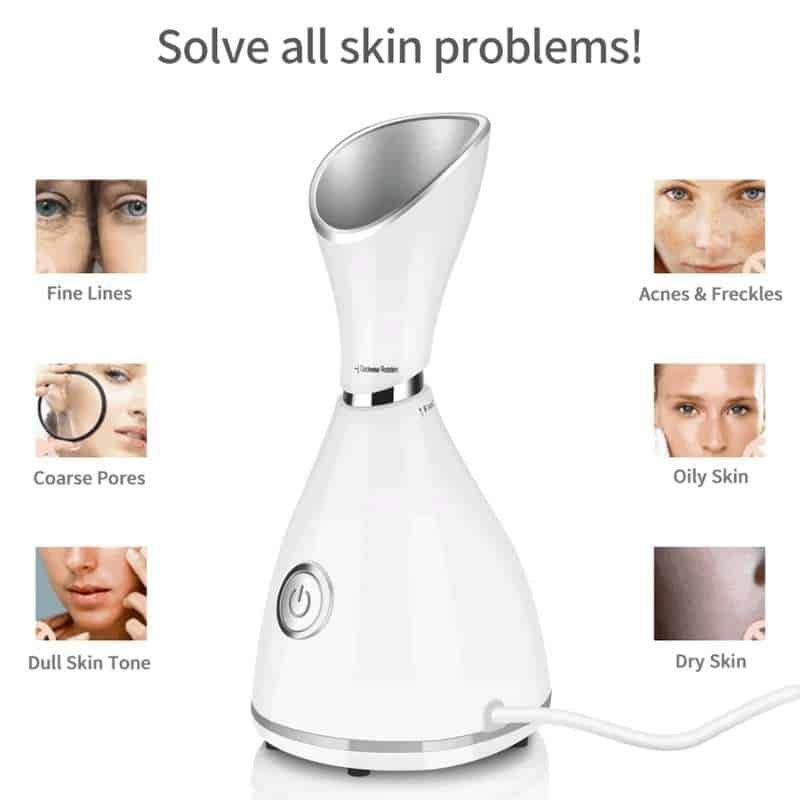 Full-Powered Steam: Facial Humidifier turns clean water into micro-fine particles to produce a powerful, consistent mist within minutes.
Nano Ionic Technology: At home Facial Steamer is more effective at penetrating and hydrating skin.
Immediate Results: Portable Facial Steamer gives you clear and glowing skin after the first use.
STEP 2: DEEP CLEANSING AND PEELING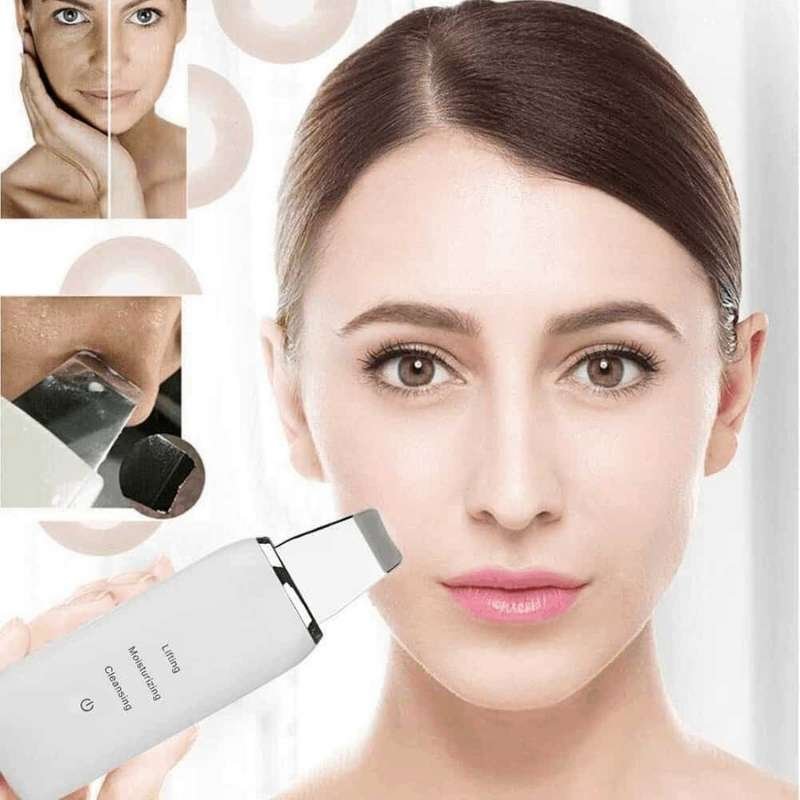 YOUR SKIN HAS MORE IMPACT ON YOUR PERSONAL RELATIONSHIPS THAN ANY OTHER PART OF YOUR BODY
Having your face covered with dirt, blackheads, oil, acne and dead skin cells not only damage your skin, but it also erodes your self-esteem, and cause additional stress in your life.
GET THE CLEAR & GLOWING SKIN THAT YOU DESERVE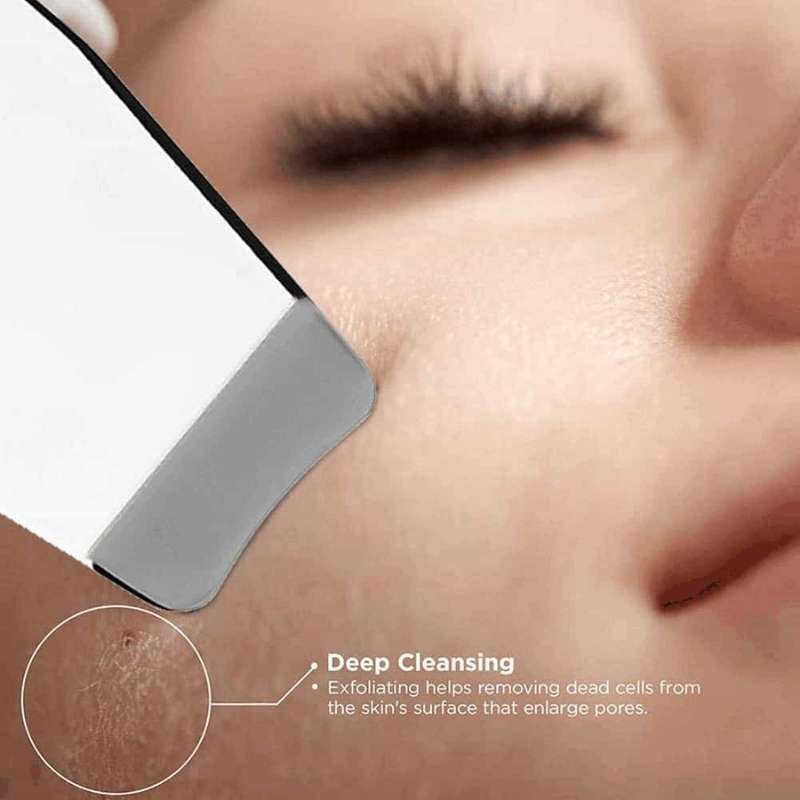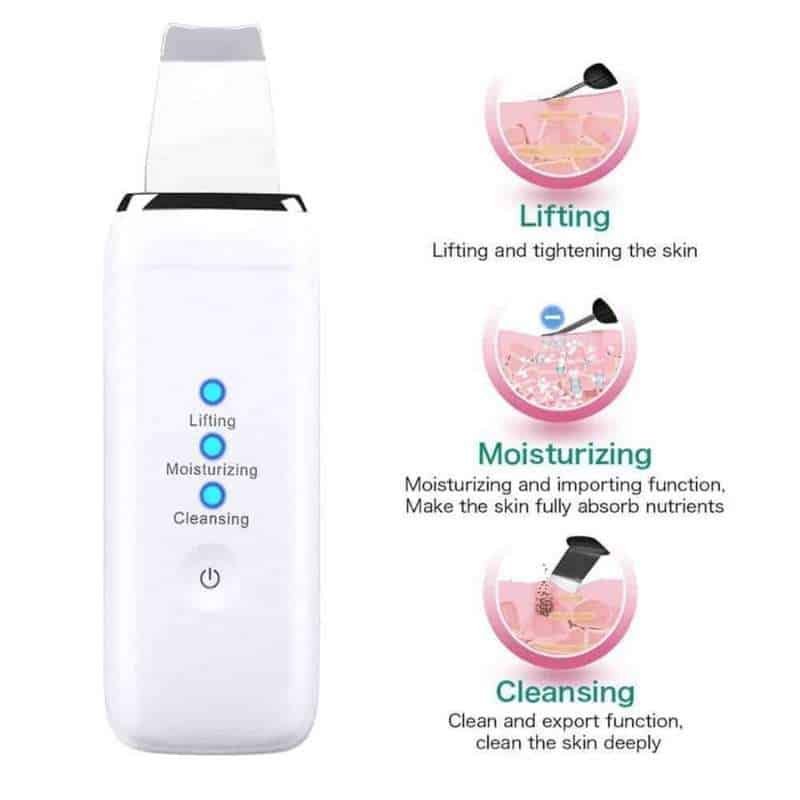 FIRMING AND LIFTING SKIN
Micro-current pulse technology can activate cell vitality, boost collagen regeneration, and help restore skin elasticity so that skin remains moisturized and firm.
HELP SKIN TO ABSORB NUTRIENTS
High-frequency vibration breaks and refines larger molecules such as VC and Collagen to help you massage your skin and easily absorb nutrients deep into the cuticle layer making the skin bright, shiny and elastic.
HOW DOES THE TREATMENT WORK
The facial scrubber adopts ultrasonic mechanical vibration of 38,000 times per second and non-invasive waves. It is able to penetrate skin 3-5 mm, effectively stimulate the regeneration of collagen, instantly removes dead skin, blackheads, whiteheads and acne, allowing your skin to regain it's clearness and cleanliness.
WHAT ARE THE BENEFITS?
Deep cleansing
Tightens pores
Removes blackheads
Improves acne
Promotes the production of collagen
Reduce wrinkles and fine lines
Skin rejuvenation
stimulates skin metabolism
THE RESULTS?
Increased skin oxygenation
Brightened skin tone
Less wrinkles and fine lines
Less acne, blackheads and dark spots
Healthy, fresh looking & glowing skin
OUR GUARANTEE
Obviously the results may vary but we want you to be 100% satisfied.
That's why a risk-free 30-day money-back guarantee If you are not satisfied, please return it for a full refund.
+ 1 year warranty
Customer satisfaction is always on top of our priorities.
Features: | face scrubber | clean pores | clean clogged pores | ultrasonic skin scrubber | face spatula | pores on skin | ultrasonic facial | clean clogged pores on face | face cleanser device | skincare for blackheads | pore cleansing facial | blackhead scrubber | facial scrubber machine | skin care | facial steamer | facial treatment | steamer machine | steam machine for face | face humidifier | facial sauna | facial at home | face care routine | steam face at home | face skin care | steam for skin |